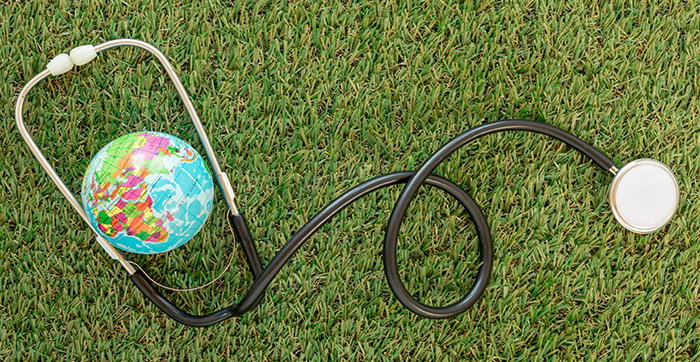 What does the future of the Egyptian climate look like in a post Covid-19 society? One thing is for certain, global lockdowns have had a favorable impact on global warming as a whole. With less pollution in the skies, less commuter traffic and fewer human footprints abound, the world has had a chance to recuperate a bit. This positive impact certainly has a few implications for business operations in Egypt. Many researchers and economists are currently working in overdrive to determine how putting the pieces of our society back together will look. Those that make smart decisions now will be able to pivot in a sustainable direction that stays aligned with trending growth patterns of the future.
Covid-19 Delivers Renewed Interest in  Sustainable Investment Opportunities
Viral social media photos depicting the staggering drop in air pollution serves as a stark reminder of what we can look forward to when global lockdown protocols are lifted. While Egypt and the world enjoys a significant drop in CO2 emissions, dark times are ahead of us if we don't learn from the past. There has been a renewed interest among Egyptian business leaders and institutions to uncover sustainable solutions to help maintain progress rather than immediately reverting to pre Covid-19 CO2 levels. The general sentiment of the Egyptian political infrastructure is in favor of transforming the country into a regional hub of renewable energy innovation.
The World Looks To Egypt For Innovative Solutions To A Global Problem
In the midst of a dark and depressing pandemic, there is a silver lining. The 2035 Integrated Sustainable Energy Strategy is a plan put forth to enhance the country's renewable energy production by 42% before 2035. With such an ambitious goal, it's clear that Egypt's economic growth as a nation is directly linked to the energy sector. As Covid-19 sweeps through the globe, the Cairo 2035 Strategy has become more admirable than ever. To meet this objective, Egypt expects to leverage both local & foreign investment to bump up its manufacturing & industrial sectors to meet the new demand for energy services.
Egyptian Lawmakers Learn From The Past
As we saw in the aftermath of the Global Financial Meltdown of 2008, CO2 emissions dropped by 1.4% and then skyrocketed by 5.9% only 2 years later. This indication is a vivid example of how after the Coronavirus pandemic has stabilized, any positive effects on climate change that the global lockdown has brought stand to be reversed. For this reason, the Egyptian government has enacted a short term goal to help speed along the Cairo 2035 Strategy. The government has set in motion the objective of reaching a 20% reliance on renewable energy sources by 2022. This plan helps kick start actionable results that manifest now rather than later.
What Does This Mean For Local & Foreign Investors?
As the wheels of global finance spin, the opportunity to make sound investment choices present themselves. Covid-19 has delivered the Egyptian economy an opportunity to meet environmental commitments ahead of schedule and industry leaders don't want to let that advantage slip away. Using the help of an investment banking team with a strong track record of success, you can benefit from the growth trends of the Egyptian economy. By working with a partner that maintains a diverse transaction portfolio, you can invest in entire markets and businesses that offer sustainable growth.
The Investment Banking Team At HC Securities & Investments Understands The Power Of Diversity 
 The experience of HC Investment Banking goes beyond the energy sector. The team has a history of executing over 43 transactions worth more than 5.8bn across the pharmaceuticals sector, telecoms, and industrial sectors to name a few. As we discussed earlier, Egypt's push to curb the effects of global warming with renewable energy is having a trickle-down effect on many other sectors of the economy. Now is the time for local and foreign investors to enter into a market that has shown a steady trend line of growth.
Whether you're interested in executing Mergers & Acquisitions or capital market transactions, our reputation as a leader in the MENA region precedes us. The investment banking team at HC Investment Banking will help guide you through the complicated maze of industry regulations and insightful partnerships aimed at helping you collaborate with Egypt's top-performing corporations. Don't miss out on your opportunity to play a role in shaping the future. For more information on Egyptian investment opportunities, contact our investment banking team today.