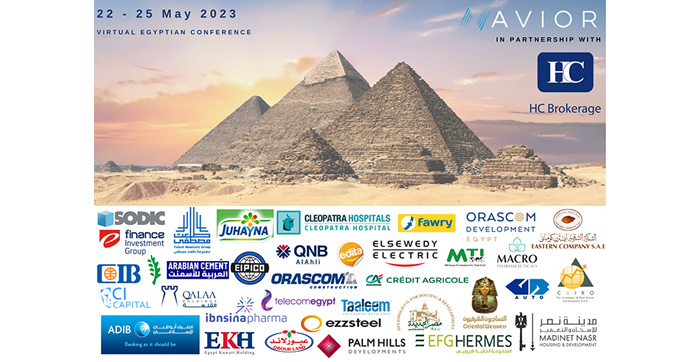 Over 4 days 22-25 May, HC Brokerage and Avior Capital Markets hold their third Virtual Conference

"Avior – HC Egypt Conference May 2023"
The Avior-HC Egypt Virtual Conference started yesterday and runs until 25 May, offering financial institutions from the US, Canada, Europe, South Africa, the UAE, and Egypt insights on compelling investment opportunities within the Egyptian equities market. Investors will e-meet representatives of 29 listed companies on the Egyptian Exchange (EGX) through group and one-on-one meetings.
The CEO of the Sovereign Fund of Egypt (SFE), Mr. Ayman Soliman, was the keynote speaker of the opening session of the conference, where he shared highlights of the Egyptian government's partial asset sale program currently underway.
Hussan Choucri, Managing Director of HC Brokerage, said: Our third initiative, in cooperation with Avior, comes within our relentless endeavor to promote investment opportunities in Egypt, especially in light of the current global economic conditions.
For Further details on Avior Capital Markets, please visit: https://avior.co.za/
For Further details on HC Brokerage, please visit: https://www.hc-si.com/
About Avior Capital Markets
Avior Capital Markets (Pty) Ltd is an independent, globally recognized capital markets research and trading firm providing in-depth and insightful research in a broad range of equities, fixed income, and derivatives in South Africa and Sub-Saharan Africa. Avior Capital Markets US LLC is a FINRA registered broker-dealer (CRD # 172595) formed for that purpose in the State of Delaware with its principal office at 733 Third Avenue, New York, New York 10017.
About HC Brokerage
HC Brokerage is an affiliate of HC Securities & Investment– a full-fledged investment bank providing investment banking, asset management, securities brokerage, research, and custody services. HC Brokerage is an Egyptian registered company and member of Egypt's Financial Regulatory Authority (FRA), and its registered address is 34 Gezirat Al-Arab St., Mohandessin, Giza, Egypt, Mohandessin 12655
For further information, please contact: